Welcome! MormonPlaces is an interactive database (a gazetteer) of the geographic locations that are significant to the history of the Church of Jesus Christ of Latter-day Saints and its sister churches of Joseph Smith's Restoration movement. This will eventually include congregations, settlements, cemeteries, buildings, and even historical events.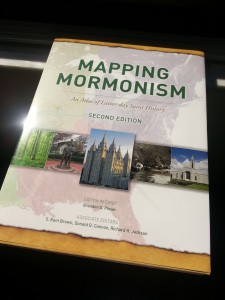 MormonPlaces is an outgrowth of Mapping Mormonism: an Atlas of Latter-day Saint History, in which we collected information on thousands of places from various regions, eras, and topics. This project builds on that with the following goals:
Help historians, family historians, and the general public easily access detailed information about places.
Enable other web services to connect to relevant places. For example, to state that person X (in FamilySearch) was the bishop of ward Y (in MormonPlaces).
Allow other scholars to add to and improve the data based on their own sources and research, much like a wiki. If you are interested in contributing, let me know.
Currently, we are focused on documenting every ward and branch that existed in the LDS Church between 1830 and 1930. So far, we have documented over 7,000 of them! Try it out and
give us your feedback
. Do you have access to better data on local congregations and want to contribute? Contact me and we can add you to our editor beta program.
What's New
April 2022: Lots of work on British branches, especially in Wales (thanks especially to Ronald Dennis' translations of Welsh Church periodicals). I also created a new page that lists Places we can't find. Maybe you can help find them!
March 2022: Some feedback from a member in the Birmingham area got me working on several British conferences in the late 1840s and early 1850s, especially the Birmingham Conference. This is an especially difficult era; the Church was growing so fast in Britain (by 1850, there were far more members in Britain than in the U.S./Utah) that they kind of gave up reporting individual branches in the usual sources like the Millennial Star.
February 2022: Started some revisions on Nauvoo-era stakes and branches, using the remaining branch records that are now digital.
January 2022: Working on early Central Utah (Sanpete and Sevier Stakes, 1849-1877)
December 2021: I published another journal article based on MormonPlaces in Transactions in GIS; this one was about the algorithm that displays an estimated coverage of a ward or branch when you click on it.
March 1 2021: Fixing some of the obvious errors in the administrative hierarchy led to a fair amount of work cleaning up and documenting a lot of British branches. There are so many branches in the British Mission, and so much documentation, it would take years to get this in really good shape, but it's better.
February 22 2021: I've added links to show the administrative hierarchy (e.g., ward-stake, branch-district). It is highlighting some possible errors we need to work on, but it can be quite helpful.