Welcome! MormonPlaces is an interactive database (a gazetteer) of the geographic locations that are significant to the history of the Church of Jesus Christ of Latter-day Saints and its sister churches of Joseph Smith's Restoration movement. This will eventually include congregations, settlements, cemeteries, buildings, and even historical events.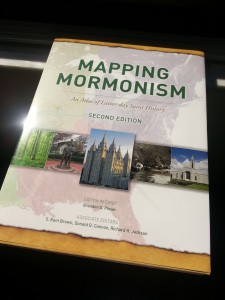 MormonPlaces is an outgrowth of Mapping Mormonism: an Atlas of Latter-day Saint History, in which we collected information on thousands of places from various regions, eras, and topics. This project builds on that with the following goals:
Help historians, family historians, and the general public easily access detailed information about places.
Enable other web services to connect to relevant places. For example, to state that person X (in FamilySearch) was the bishop of ward Y (in MormonPlaces).
Allow other scholars to add to and improve the data based on their own sources and research, much like a wiki. If you are interested in contributing, let me know.
Currently, we are focused on documenting every ward and branch that existed in the LDS Church between 1830 and 1930. So far, we have documented over 7,000 of them! Try it out and
give us your feedback
.
What's New
August 21, 2019: We've moved to a new server. Everything appears to be working, but if you see any errors, let me know.
August 19, 2019: I've added a layer of historic Denmark topo maps to the historic map layer, joining Utah and the UK.
February 26, 2019: I added a page to see the recent edits to the database
January 26, 2019: We have added an option to show a 1930 road map in the background. It currently only includes Utah (not quite finished) and OS maps of the United Kingdom, so if you have corrections or additional sources, contact me.
January 23, 2019: I've refined the design of the site a bit, including hopefully more help in using the information.
January 21, 2019: We finally have a place editor ready for beta testing! If you have specific information you can contribute, and would like to help us test the editor, please contact me.
October 3, 2018: Added a page describing the plans for Phase II of MormonPlaces.
September 1, 2018: After three great years, we have completed our grant, and I must say goodbye to my great student assistants. They did a huge amount of work, but the next phase of research could probably be best carried out by community involvement (i.e., you).